Single and multiple tooth replacement.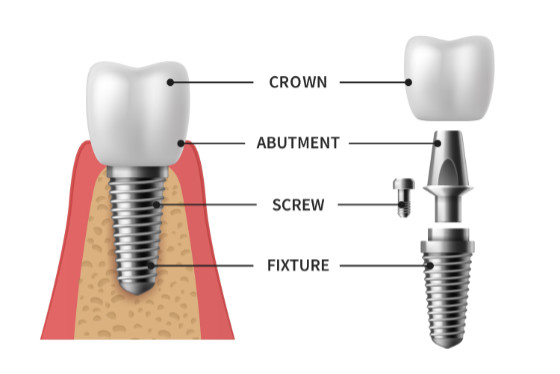 Dental implants are permanent artificial root replacements, made of titanium.  Implants are biocompatible with bone and become a stable base for one or more tooth replacement. They help restore the ability to chew food and preserve bone that is lost  because of missing teeth. A connector, known as an abutment, is placed on, or built into, the top of the dental implant, which connects it to the replacement tooth. Finally, a crown, a replacement tooth, is custom fabricated to match your natural teeth, completing the dental implant restoration.
Dental implants can replace a single tooth, several teeth or support a partial or full denture.
Dental implants are a popular and effective way to replace missing teeth and are designed to blend in with your other teeth. They are an excellent long-term option for restoring your smile.
Implant Testimonial:
"I have had many procedures done by Dr. Barney and his staff, and have been very pleased with every visit. The staff is caring and makes you feel comfortable during your appointments. The office is always clean and well maintained, and has all of the latest technology. Dr. Barney has completed my treatment and I finally feel confident when smiling for the first time in years. Not to mention the fact that I can finally eat things like corn on the cob again! Thank you for all the hard work and the compassion during my time at Brookdale Dental."
-Justin M.